India

Art Fair returns for its 15th edition in 2024 with
record exhibitor numbers, a new Design section and
an expanded city-wide programme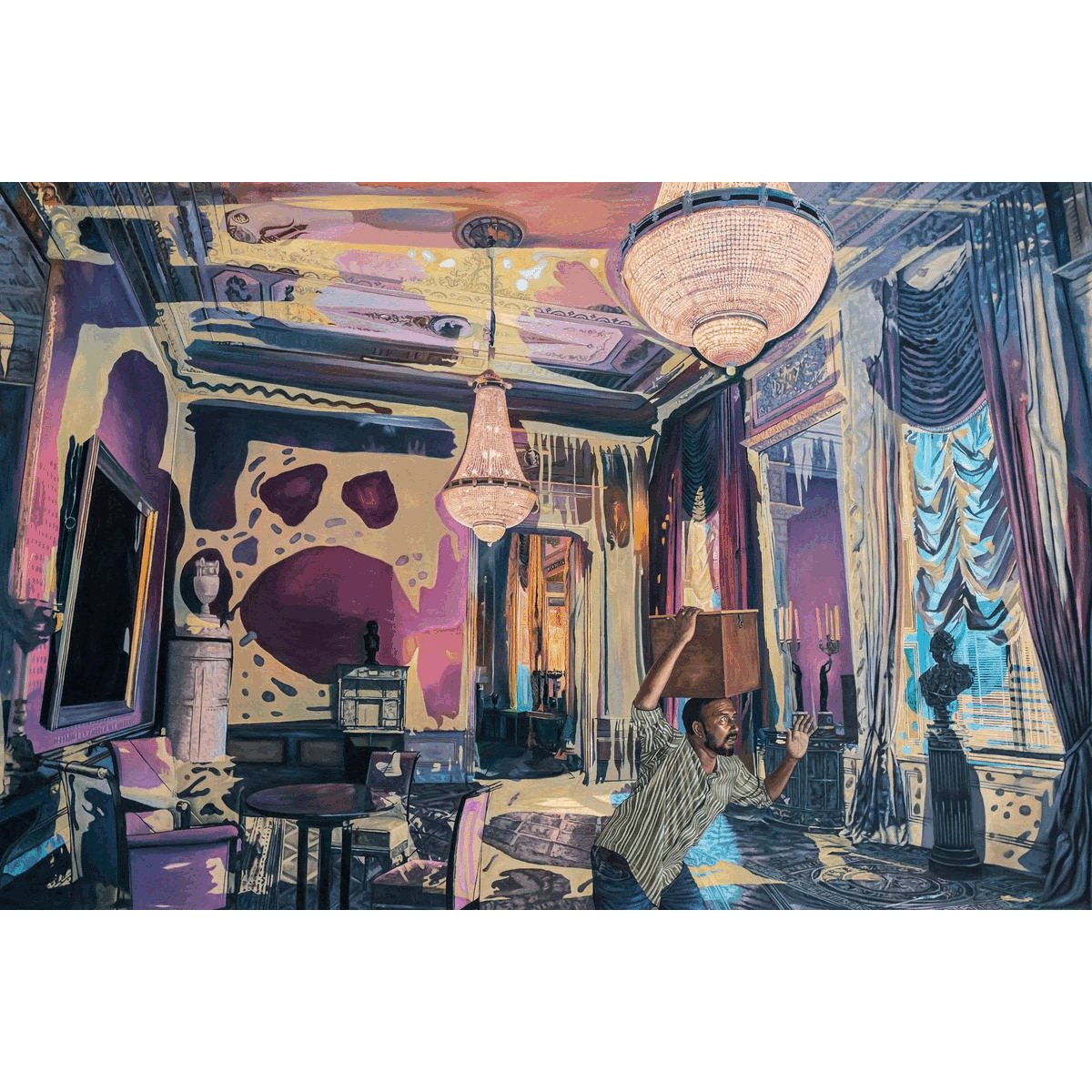 India Art Fair, the leading platform showcasing modern and contemporary art from India and South Asia, returns for its 15th edition at the NSIC Exhibition Grounds in New Delhi from 1 to 4 February 2024. Led in partnership with BMW India, India Art Fair 2024 is the biggest edition yet, featuring 100 exhibitors, including 71 galleries, 7 design studios, and the participation of major regional art institutions. The fair welcomes 26 new exhibitors, including 10 first-time South Asian institutional participants as part of its mission to celebrate and further support the arts ecosystem in the region.
The fair's inaugural Design section hosts pioneering designers and studios, spanning collectible furniture, jewellery and fabrics, with a strong emphasis on contemporary interventions into traditional craftsmanship. Building on the growth of the Indian art market and economy at large, the 2024 edition of the fair also sees the greatest international participation yet, with 18 international galleries and institutions exhibiting and several leaders of global arts organisations confirmed to participate in the fair's Talks Programme, ensuring that the fair is once again a global meeting ground for collectors, curators and art professionals, and strengthening cultural dialogue and ties with the wider international art scene.
Jaya Asokan, Fair Director, India Art Fair comments, "The landmark 15th edition of India Art Fair comes at an exciting time for both the South Asian art scene and the market, with artists from the region becoming a part of international conversations as never before. As we continue to grow as a fair, we remain focused on our mission to amplify the voices of the most exciting artists from the region and to support the expansion of South Asian creativity. We are thrilled to ​​launch our very first Design section and to welcome a diversity of creative talent from across India and the broader region. I look forward to welcoming new and old friends to the fair."
Top Indian contemporary galleries exhibiting include Vadehra Art Gallery, GALLERYSKE, Nature Morte, Exhibit 320, Gallery Espace, Shrine Empire, Latitude 28, Blueprint12 (all New Delhi), Anant Art Gallery (NOIDA / New Delhi), Chatterjee & Lal, Jhaveri Contemporary, Chemould Prescott Road, Gallery Maskara, Galerie Isa, Project 88 (all Mumbai), Emami Art, Gallery Art Exposure (both Kolkata), Experimenter (Kolkata / Mumbai), Vida Heydari Contemporary (Pune), Apparao Galleries, Gallery Veda (Chennai), Archer Art Gallery, Iram Art, ZOCA (all Ahmedabad), and Dhi Contemporary, Shrishti Art Gallery, Kalakriti Art Gallery (Hyderabad). Alongside these are modern galleries, including DAG (New Delhi / Mumbai / New York), Crayon Art Gallery, Sanchit Art and Dhoomimal Gallery (all New Delhi). India Art Fair also welcomes 2 new Indian galleries for the first time, Gallerie Splash (Gurugram) and Method (Mumbai).
Among the international galleries returning to the fair are Galleria Continua, Marc Straus, Aicon and Aicon Contemporary, 1×1 Art Gallery, neugerriemschneider, Bruno Art Group, Saskia Fernando Gallery, and Grosvenor Gallery. In addition, the fair introduces 3 new international gallery participants, Carpenters Workshop Gallery, Galerie Geek Art, and Indigo+Madder.
Comprising solo presentations curated by participating galleries, the Focus section showcases mixed media works by senior artists like Probir Gupta (Anant Art Gallery), Paresh Maity (Art Alive Gallery), V. Ramesh (Threshold Art Gallery), Chippa Sudhakar (Shrishti Art Gallery) and emerging practices including Dibin Thilakan (Gallery OED).
The Platform section spotlights the rich artistic heritage of South Asia through the works of contemporary masters of traditional arts, participants include: Delhi Crafts Council (DCC), Inherited Arts Forum, Gallery Ragini, OJAS Art (all New Delhi), Serenity Arts (New Delhi / Thimpu), and Shrujan – Living and Learning Design Centre (Kutch).
India Art Fair hosts its first Design section in 2024, highlighting the exciting contemporary design scene emerging in South Asia. The section features limited edition and hand-made collectible design by studios paying homage to and redefining the centuries-long tradition of craft in the region. The inaugural design participants include: Vikram Goyal, Gunjan Gupta (both New Delhi), Atelier Ashiesh Shah, Rooshad Shroff, Studio Renn, Karishma Swali & Chanakya School of Craft (all Mumbai) and de Gournay (London / Paris / New York / San Francisco / Los Angeles / Beirut / Shanghai).
Marking eight years of partnership, India Art Fair and BMW India expand the scale and scope of The Future is Born of Art Commission created to platform Indian art and artists on a global stage. In 2024, the winning artist will be commissioned to create an immersive installation with the BMW i7 at its centre.
The Studio continues to be the space at the fair for interactive, transformative and cutting-edge digital art and technology projects. The Digital Artists in Residence programme returns with three incredible artists showcasing major works housed at the Digital Residency Hub.
The celebrated Institutions section of the fair includes booths and projects supported by 22 leading cultural foundations, collectives and organisations as part of the fair's commitment to supporting the thriving arts scene of the region and beyond. These include the Foundation of Indian Contemporary Art (FICA) (New Delhi), JSW Foundation (Mumbai), the Purushottam Public Trust (Vadodara), Egaro Photo Festival (Agartala), Unnati Cultural Village (Kathmandu). The French Institute in India, alongside the Basu Foundation and Galerie Lelong Paris additionally unveil an artistic collaboration.
The fair also highlights its new cohort of three young and exciting Artists-in-Residence, each from under-represented parts of India: performance and mixed-media artist, Merci Thamshangpha Maku; textile and installation artist, Mayuri Chari; and graffiti and street artist Siddharth Gohil aka Khatra.
India Art Fair is at the centre of a month-long Parallel Programme that sees local galleries, institutions and collections organise special exhibitions and events across the city, giving visibility to its vibrant cultural ecosystem. Gallery highlights include Vadehra Art Gallery, Shrine Empire, Akar Prakar, Devi Art Foundation in collaboration with Crafts Museum, New Delhi, Gallery Espace and Sustaina India 2023 fellows presented by artist duo Thukral and Tagra and the Council on Energy, Environment and Water, both on view at Bikaner House.
To read the full press release and for the full list of exhibitors please click the below link:
FULL PRESS RELEASE
Media enquiries:
Polly Brock | Hugo Ximenes,
Angus Montgomery Arts – The Art Assembly
media@theartassembly.com
Image credits: Abhishek Narayan Verma, Untitled (No. 2), 2023. Courtesy of Anant Art Gallery; Aisha Khalid, I Am and I Am Not, 2022. Courtesy of Aicon Art; Arpita Akhanda, Whispering Memories, 2023. Courtesy of Emami Art; Ashiesh Shah Atelier, Naga Chair. Courtesy of Atelier Ashiesh Shah; Idris Khan, If Every Thought Is Understood, The Thinker Withers, 2023. Courtesy of Galerie ISA; Jonathan Trayte, Top Stick & Cherry, 2023. Courtesy of Akara Art; Julien Segard, Gignac, 2023. Courtesy of Experimenter; Manjunath Kamath, Last Night, 2023. Courtesy of Sakshi Gallery; Nacho Carbonell, Lily Pad Tree (100_2018), 2018. Courtesy of the Carpenters Workshop Gallery; Noa Eshkol, Folk Dance, c. 1980s. Courtesy of The Noa Eshkol Foundation for Movement Notation and neugerriemschneider; Ravinder Reddy, Head, Unknown year. Courtesy of Gallerie Nvya; Master Zeikor and team, Green Tara, Unknown year. Courtesy of Serenity Arts; Vikram Goyal, Castello Console. 2023. Courtesy of Vikram Goyal; Andreas Eriksson, List I , 2023. Courtesy of neugerriemschneider; Harsha Durugadda, Nimbus, 2019. Courtesy of Emami Art.